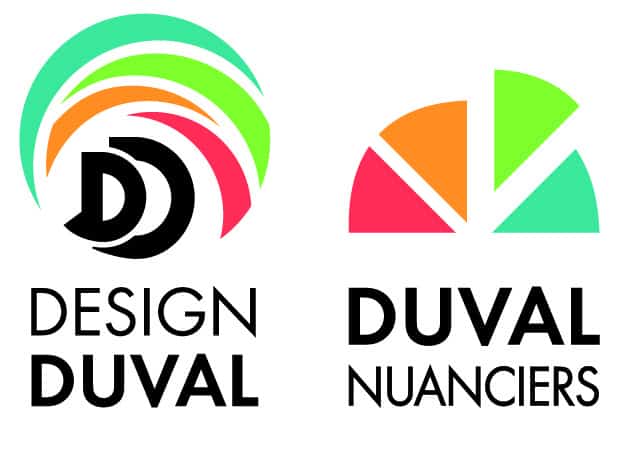 Just recently, we were proud to announce the redesign of our website and the modernization of our image.
A friendlier website for our users and more in line with our spirit. Beyond this relooking, a major transformation was taking place: Design Duval and Duval Nuanciers were reunited in the same location. A metamorphosis incarnated by new "twin" logos, one for each company
In 2019, Design Duval and Saint-Jacut Conditionnement reunited their teams
Created in 1947 in Redon, Plastiques Duval moved for the first time in order to expand its production space needed to convert its activities, from sewing leather goods to PVC processing.  High Frequency Welding machines were of course much bulkier than sewing machines!
The development of our sampling  activity required a further expansion in 1999. This new activity required a much larger area : to apply the materials in large quantities, to dry the samples and to store the customers' supplies. A new site, named Saint-Jacut Conditionnement, was thus created in Saint-Jacut-les-Pins, 15 km from Redon.
In 2019, we decided to bring the two sites Design Duval and Saint-Jacut Conditionnement together in Sainte-Marie, a town close to Redon. Quite a few busy months as we moved offices, staff, stocks and above all machines (which didn't agree to all of them…), while doing our best not to affect our customers too much, whom we would like to thank for their patience!
Today, we have succeeded and the machines are no longer upset.
A single location, reaffirmed values
This cohabitation is of course not just symbolic! As our client's requests became increasingly diverse, our teams clearly needed to be reunited in the same location. Collective thinking was made easier and the different crafts were able to interact more efficiently. This is the nature of our values and of our DNA !
Design Duval and Saint-Jacut Conditionnement moved thus together to optimize the staff's work: greater reactivity, cohesion, versatility and efficiency. Communication between teams is improved: no more shuttling between the two sites! It saved everyone lots of time.
This relocation to a new geographical location induced an adjustment. As the name Saint-Jacut Conditionnement no longer made sense, the activity was renamed DUVAL NUANCIERS.
"Twin" logos to signify a new start
At the same time, Design Duval and Duval Nuanciers decided to update their respective logos. As part of a single brand, the new logos were created according to the same graphic charter, in line with the visual identity of the new Design Duval website.
Design Duval's logo symbolizes the group's four activities in colour:
Dynamic, modern, generous and creative, this logo stands for our teams! May it contribute to promote our visibility and attractiveness!
By reuniting all our activities in a single location, we reassert our commitment: to provide you with our multidisciplinary expertise and create together with you the project that perfectly answers to your needs.